How might we help seniors accomplish small fix-it tasks they can't do themselves so they may "Age in Place?"
Design Summary
This is a personal project I worked on as part of my Design Thinking certification, where I was asked to tackle a project involving seniors.
Aging Americans, retired and older than 65 years old, often need help with small fix-it tasks around the house, and because of their physical and financial situation, they are not able to accomplish these tasks by themselves. What's more, they do not always know who to call for help that they can trust and afford. They need a way to find trustworthy professionals who will be able to do quality work and not charge more than what someone living on a fixed income can afford.
I was inspired to research this topic because of my observations of my own parents. They lived on a fixed income and often needed to hire outside help. Safety was a top concern. I decided to find out if other seniors had the same issue.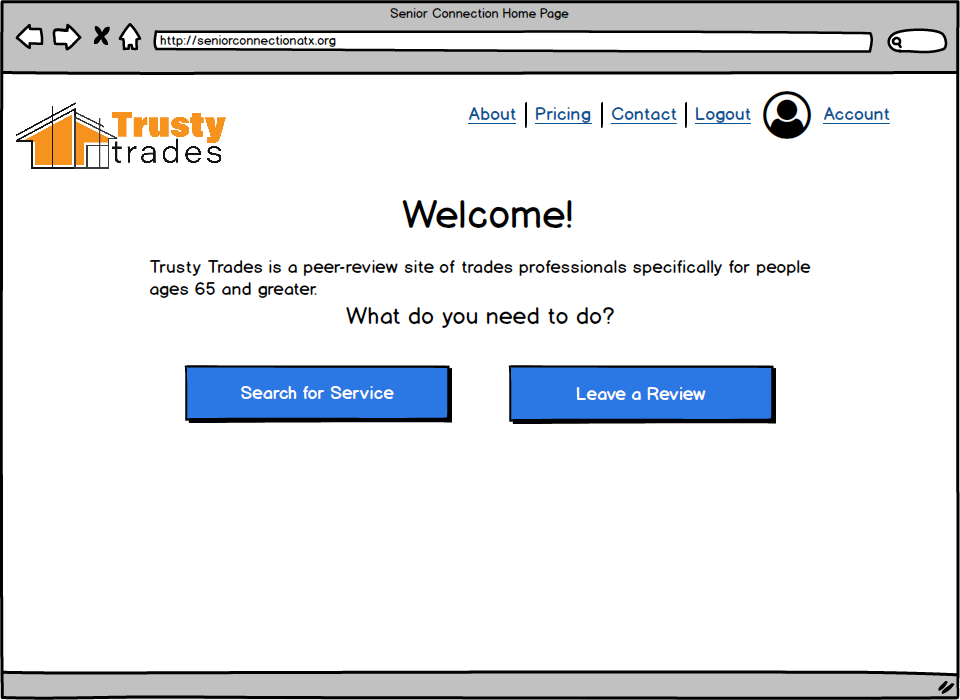 Design Process
Problem definition and User Interviews
I conducted formative research by interviewing a group of six senior women, ranging in age from 73 to 82. I asked the following questions:
Tell me about an experience you had recently when you realized you needed something fixed at your home…
How did you ask for help?
How do you find help?
What challenges do you encounter when you need this type of work done?
Tell me about the technology you use every day…
Key Findings
Family nearby does not necessarily mean nearby support
Most interviewees indicated that despite having family or a spouse nearby, they may not call on them for help. They are more likely to try to manage the issue themselves or with a professional if they can.

"Not all people will call up and say they need it. As you get older, there are a lot of people who won't ask for help."

Participants are adept with technology
All participants said they felt comfortable with using technology, particularly with Google search. They were more likely to search Google to find a handyman or professional than to call on a family member.

"We have learned to use Google and the computer. It's not all by word of mouth."

Service exists – the question is, are they trustworthy?
Participants all had their own systems for finding help when they need it, but they seemed to struggle with who to trust. Participant 4 mentioned a handyman several times that she has developed a strong bond and trust with. Others did not have the same type of relationship and relied on Google searches to find help with small tasks. The majority said they were likely to trust professionals with strong recommendations from other seniors.

"I would trust someone more if they were recommended and used a lot by others."
Ideation
The best idea from the ideation session was a website that vets professionals and allows seniors to sign up, find, and rate these services. Professionals would apply, pay a fee for a background check and Better Business Bureau verification, and then be included in a database. Seniors would pay a small yearly fee to register and access this database. They would be able to see ratings professionals and reviews from other seniors and be able to call for service through the website. Then, after the service, they would be asked to provide a rating and review of the professional.
I drew a storyboard to visualize the idea.

Wireframes
User Testing and analysis
User testing was conducted in-person using wireframes loaded into Invision so participants can click through like a real digital product.
A video camera captured participant comments and the screen. There were four participants, age 65+.
Insights
Users seemed to be confused by the site branding and what it promised. They wanted to know what kinds of professionals were included and what signing up meant. Additionally, they didn't understand that the users were only intended to be for users 65 and up to connect them with trades professionals.
Using the existing wireframes was straightforward, but the testing participants did not always see the link for "see details." They were honest in their feedback about the information they would like to see. Reviews were important, but perhaps not quote as important as seeing a breakdown or description of services that each professional would be willing to perform. They requested categories or at a minimum a text description of services. Users also felt price and service area was important.
Not all users were as concerned about the meaning of the star rating, but one user gave valuable feedback that it would be important to understand how her peers rated a professional. Users said it would be important to see a variety of additional information to feel the information could be trusted, from chamber and BBB status to background checks.
Revisions
Based on the feedback received, I revised the prototype in the following ways:
Change branding
The majority of the users who tested the site found the branding confusing. The name itself did not explain what the site was about. It also seemed to offend one user whose definition of "senior" was those aged 80 and older. I plan to change the name to try and clarify what is contained within the site.
Clarify site expectations and narrow service focus
The message from users at the beginning of the test was loud and clear – the landing/home page did not tell them what to expect inside the site. They didn't know what services were offered or if it would be worth the investment. They also expected to see a wide range of services. I plan to add additional information to the landing page to explain what the site does and narrow the service focus.
Update pricing
Response to the pricing was mixed. Some users felt the price was outrageous, while others wanted to see if it would be worth it. I plan to adjust the price downward slightly, but also add a free trial to allow users to try the service for 30 days before signing up for a full year.
Add service categories
Users suggested each service has a wide range of categories of tasks, for example, some handymen will handle light plumbing and electrical, while others will not. I plan to add a way to sort results by categories to assist users in finding the professional they want.
Add more detailed ratings
Users indicated that they needed additional information to trust the site ranking, yet they still would rely heavily on the peer reviews. I plan to add a breakdown of the reviews to focus on the peer-to-peer aspect and provide information users were looking for in a professional service provider.