iOS app design for medical transport service
Design Summary
I worked as a design contractor for a consulting and development agency that developed an iOS app for a medical transport company. The app was designed to allow emergency responders and personnel order a helicopter to a hospital or accident scene.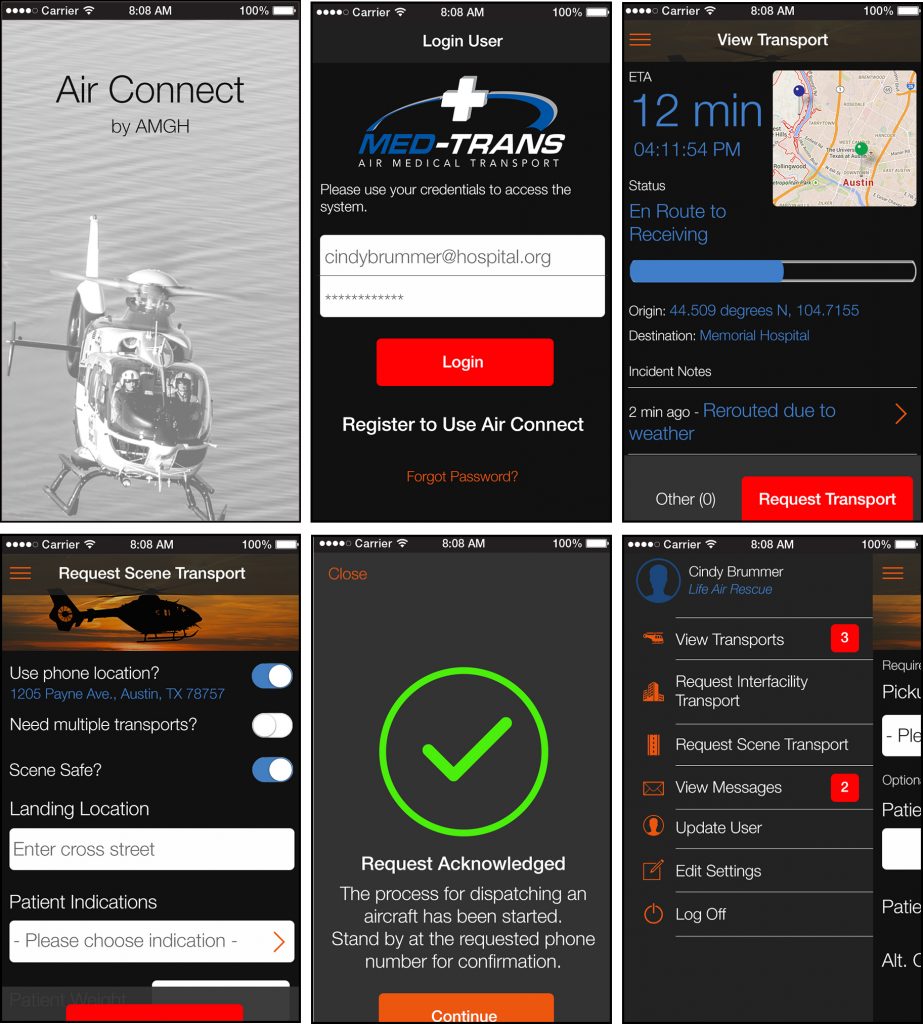 Design Process
Client Interviews
I was brought into the project after the initial discovery and requirements gathering had already been completed. My first conversations with the client followed discussions with the project manager and project architect, who briefed me on the project and how it would be built.
I focused my discussions with the client to understand more about the context of how the app would be used and accessed. I wanted to fully understand how the users would be interacting with the app and under what circumstances. I learned that the users would be in stressful situations, often at night. I also learned that they might not be near an obvious address. They might only know nearby landmarks.
Literature Review
I felt that I needed additional research to design this app. The app would be built for iPhone and iPad, so I researched best practices for designing for iOS mobile devices.
UX Wireframes
I sketched out the basic layout on paper, and then I digitized the layouts in Balsamiq. I walked through the layouts with the architect and development team to make sure what I was building would be technically feasible.
Hi-Fi mockups
I created the high-fidelity mockups in Photoshop. I settled on a dark design with bright calls to action, which would be easier to see at night, when many of the users would use the app. I also used larger, bright text, which would be easier to see if the user was in crisis mode.
I created hundreds of screens in order to show a realistic-looking flow to the client. Here are some of them:
Client Iteration Sessions
I used Invision on this project to show a realistic-looking prototype to the client. It was so real, the client thought it was already in development. They provided feedback on text and imagery, but for the most part, approved the layout and flow of the app design.